Agatha Christie is one of the most popular mystery writers of all time, and for good reason. Her books are thrilling, well-written, and full of twists that leave you guessing until the very end. Many of today's modern mystery and detective stories are based on the plotlines and unique attributes of the best Agatha Christie books.
Here's my personal ranking of the best Agatha Christie books ever written—from her classic whodunnits like Murder on the Orient Express to her more modern works such as Peril at End House.
You can start anywhere you like with her impressive work of books, and be sure to pick up your best writing supplies if you want to emulate one of the greatest authors to ever live. Let's dive in!
Who is Dame Agatha Christie?
Agatha Christie is a British crime novelist who wrote 82 novels and short story collections. She is the best-selling novelist of all time, with over two billion copies sold in English and over one billion more translated into another 100 languages.
Agatha was born in Torquay, England, in 1890. She was home-schooled but actually taught herself to read by the age of five. Pretty impressive considering many of us are still struggling with how to write a novel and she was already reading at such a young age.

Her works feature such famous detectives as Hercule Poirot and Miss Marple, who have been adapted into plays, films, TV shows, and radio dramas. 
Agatha Christie died on January 12th, 1976, at the age of 85. William Shakespeare and the Bible are the only other books and authors to ever reach her level of popularity.
Now for the list: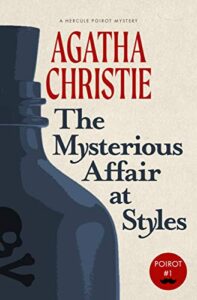 If you're looking for a solid introduction to the world of Agatha Christie, you can't go wrong with The Mysterious Affair at Styles. This 1920 novel is the first in Christie's popular Hercule Poirot series, and it introduces readers to several recurring characters as well as this famous Belgian detective himself.
The story is set in a fictional English village called Styles Court, which is based on the actual town of Torquay. The basic plotline is a murder mystery around the death of a wealthy benefactor. Every suspect has a secret to unfold in a web of questions and surprises that set up this first book of Christie's as the foundation for many more incredible mystery novels.
The second book on our list is And Then There Were None, a story that Agatha Christie fans will tell you is probably her most famous. It's the tale of ten strangers invited to an island by an unknown host, only to find themselves trapped there with no way off. As they begin to die in gruesome ways, it becomes clear that one of their number is the killer—but can they figure out who it is before they're all dead?
The novel has never been out of print. Its success helped put Christie on the map as a serious author with something new to bring to the genre (although she'd already written some other impressive mysteries).
With a murder mystery at the heart of Agatha Christie's Murder on the Orient Express, you'd be hard-pressed to find a better title for any book lover looking for an escape.
The novel begins with Hercule Poirot narrating his experiences aboard the famous train line, which he is riding in order to solve a crime that has been committed. The victim is found dead with multiple stab wounds in his bed. As Poirot investigates further into this perplexing case, he discovers that everyone on board has motives and opportunities. 
There is no shortage of suspects here. The finale of this groundbreaking book is one of the most unique points in mystery novel history.
The Murder of Roger Ackroyd by Agatha Christie is a classic whodunnit that will keep you guessing until the very end. It's also the first book in which she used a twist ending, which would become her signature in later works. Being controversial and breaking through the typical tropes of mystery novels is what sets Christie apart from most other authors.
In this novel, Poirot investigates the murder of Mr. Roger Ackroyd as well as his fiancé and discovers that there was blackmail as motivation to kill both people. His investigation leads him to an unexpected conclusion: one particular person couldn't have been responsible for committing such a crime because they were already dead at the time it happened!
In this book, Christie introduces us again to Hercule Poirot, who will go on to become one of her most beloved characters. The ABC Murders is a classic whodunnit with a little bit of everything: romance, suspense, and even a touch of humor.
The story takes place in England during the 1930s. It follows Poirot as he investigates a series of murders, all involving victims whose initials spell out ABC—and that's where it gets interesting! Readers follow along as our beloved detective is forced to stop a serial killer before they get through the entire alphabet.
When it comes to Agatha Christie, it's hard to deny that her books are some of the best-written mysteries ever written. This book is no exception.
The plot follows a couple on holiday in Egypt, where they meet up with an old friend and discover that they have been murdered on their boat. The story is told from the point of view of several different characters, which adds a unique element to each chapter as we learn more about each character's background and motivations.
This makes for an exceptionally complex and intriguing plot, full of suspense and surprises at every turn. It also means that nothing can be taken for granted—every single detail could be essential to our favorite detective, Hercule Poirot!
This is the first introduction of Miss Jane Marple, who would become as cherished a detective as Poirot. We follow along as Marple tries to solve a murder mystery in St. Mary Mead.
When Colonel Protheroe, a hated landowner, is found dead in the vicar's study, we are faced with numerous suspects in a complex web with only Miss Marple to uncover the truth. The clues and red herrings in this book will lead you on a classic game of cat and mouse that is well worth the read!
If you're a fan of mysteries or are looking for a great book to read on the beach, this is the novel for you. This is one of the most beloved books in Agatha Christie's oeuvre, and it will make your summer reading list unforgettable.
The Body in the Library is relatively short and easy to consume that'll keep you up late into the night while keeping hold of its secrets until all is revealed at last. It's also worth mentioning that since so many people have read this book over the decades (and because it was adapted into a popular TV show), there are plenty of plot twists and turns left to discover on your own.
This is another Miss Marple mystery where Christie actually uses her name in the plot as an Easter Egg. The goal is to figure out how a woman wearing an evening dress with heavy makeup smeared across her face was discovered in the library of an esteemed family with no one willing to tell the complete truth.
This was supposed to be a clear case of a wife poising her philandering artist husband, solved by the esteemed Hercule Poirot. However, 16 years after the death, our lead suspect is still professing her innocence.
A new daughter convinces Poirot to take the case and dive deeper into the suspects' various motivations until a new truth is uncovered, rocking the local community and changing history forever.
In 1942, Agatha Christie released Peril at End House. This is the eighth in Christie's Poirot series, where we follow the vacationing detective as he travels the Cornish coast. He takes an interest in the young mistress of End House as she escapes a series of life-threatening accidents.
As time moves on, we discover these so-called accidents have a much darker meaning. Someone is trying to kill our heroine, and Poirot must act quickly or risk the life of his new friend.
Cards on the Table, a crime novel by Agatha Christie, features her Belgian detective Hercule Poirot. This follows a strange party full of eccentric bridge players as the host is murdered right in front of their eyes.
The plot concerns a game of bridge that takes place at an English country house. A murder occurs during this game, and no one but Poirot seems to realize that there has been foul play until after the body is discovered.
The dialogue in this detective novel is quite impressive and well worth the read!
Crooked House is a novel by Agatha Christie set in London and the surrounding countryside. The plot concerns an older woman who invites her relatives to her home for a family reunion after inheriting a large fortune. However, when the guests arrive at her mansion, tragedy strikes when one of them dies under mysterious circumstances.
The novel features many typical elements of detective fiction. There are multiple suspects with varied motives, false trails laid by red herrings, and character development that reveals hidden secrets about each person's past history.
This is also one of Christie's rare standalone novels that doesn't involve Poirot or Miss Marple.
Agatha Christie's A Murder Is Announced is a classic whodunit. This is one of the only books that Christie herself promoted as a favorite.
This story takes place in a small village where someone announces that there will be a murder at 6:30pm at Little Paddocks on Friday, October 29th. No one knows if this is a hoax or an actual event waiting to unfold until Miss Marple arrives to navigate this fantastic mystery novel's multiple twists and turns.
Best Agatha Christie Books Wrap-Up
The Mysterious Affair at Styles (1920)
And Then There Were None (1939)
Murder on the Orient Express (1934)
The Murder of Roger Ackroyd (1926)
The ABC Murders (1936)
Death on the Nile (1937)
The Murder at the Vicarage (1930)
The Body in the Library (1942)
Five Little Pigs (1942)
Peril at End House (1932)
Cards on the Table (1936)
Crooked House (1949)
A Murder is Announced (1950)
Hopefully, this has been an excellent starting point for you to enjoy all the incredible stories of Agatha Christie. I highly suggest reading these where it is quiet, so you can experience the thrill of each turn and unveiling as the world's most cherished author unweaves a magical world of thieves, blackmailers, and murders.
Agatha Christie is a fantastic writer who has created some of the most famous mysteries in history. Her books are fun to read and will keep you guessing until the very end. If you love mysteries, then Agatha Christie is definitely worth checking out!
The 13 Best Agatha Christie Books to Read Right Now